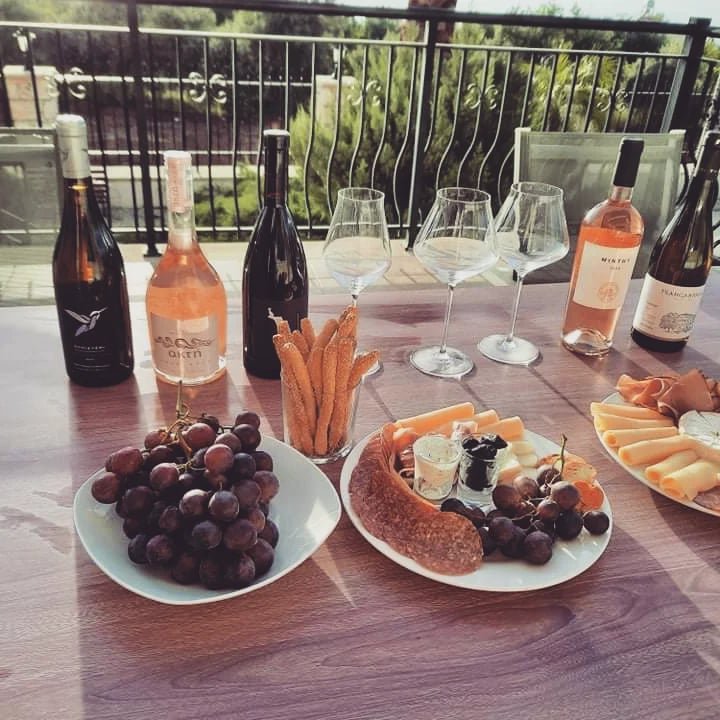 Everything you have ever wanted to know about the wine of Cyprus, nowadays you can enjoy outstanding private wine tasting from the comfort of your holiday house.
Wine-delivery.online has been a private wine tasting company since 2019. We were collecting all our customers' top choices of wines and wineries as an ideal experience. Our customers are our friends, and we were very proud that 90% of our customers are repeat customers for 2022.
What does it include in the Private wine tasting this season?
First, you will have five boutique wine bottles closed. We will open them for you and all leftovers you can enjoy after our private wine experience.
Second, we will bring you Cypriot cheese, meat and veggies, a plater plus sweet magic to upgrade your wine and food pairing.
Third, you will have a professional Sommelier hosting and giving you many interesting facts about wine, food and how to be the best consultant.
Fourth, you will have wine glasses for experts, ice boxes, decanters and child glasses for white wine and room temperature wine glasses for red wines.
Fifth, we will connect your knowledge about wine with all extra knowledge from Cypriot wines. We will bring you happy moments and enjoyable two hours with amazing wines.
How many wine-tastings we will have this year?
-Two different wine tastings
Beginners private wine tasting for 45 euro per person with boutique wines.
Advanced private wine tasting for 65 euro per person with Premium bouquet wines less than 2000 bottles produced per year.
We will be happy to meet you at your holiday houses and to make your tasting outstanding experience.
We will bring 5 bottles of wines which will be leftover after our meeting.
We will have cheese and meet platter to accomplish the best wines you will enjoy.
We will have professional wine glasses, decanters, ice boxes and openers.
Professional Sommelier Gergana Nikolova will be your guide through native varieties of Cyprus and provide feedback about all you need.
How can you order it?
 You can talk directly with us any time of the day to set up your amazing wine experience.
Ask anything you would be interested to know about us.
Send us email at winedeliveryonline@gmail.com
Or call us at 00357 96393448
We will settle down our wine tasting.
Ask our partners Luxury Latchi villas for bookings with more than 400 happy guests be part of our private wine tastings.
Services you will enjoy at Luxury Latchi villas are outstanding and their villas are part of heaven.
 https://luxurylatchivillas.com/
You can find us at  https://luxehome-cyprus.com/ with Simona, you can book your appointment and luxuries experience.
You can find us at Akamanthea Holiday Village (Akamanthea Holiday Village amazing wine tasting. Lets go season 2022! Everyone is more than welcome to visit us! direct bookings: Akamanthea Holiday Village contact +357323500 info@akamanthea.com) with their amazing services and beautiful view next to the beach.
Thank you for your time.
You can find many excellent reviews at TripAdvisor, or you can ask Luxury Latchi villas.
We are all fully vaccinated.
We work at Polis Chrysohous, Latchi, Neo Horio, Argaka, Pomos and Agia Marina.
For further information please contact us.
We are happy to meet you and served you.